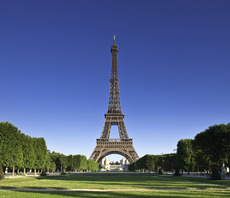 French legal rulings, Indonesian forest protection efforts, and plans to make Australia a renewables superpower, all feature in this week's green business round-up from around the world
Court gives French government three months to explain why climate plan is not in line with emissions goals
France has this week become the latest country where climate litigation could force policymakers to take bolder steps to deliver on their legally-binding emissions goals.
In a major new ruling, France's top administrative court on Thursday gave the government a three-month deadline to demonstrate that it is taking sufficient action to meet its climate goals.
A case brought by Grand-Synthe – a coastal town that is particularly exposed to growing flood risks – led to a ruling from the Council of State that noted that "while France has committed itself to reducing its emissions by 40 per cent in 2030 compared to 1990 levels, it has, in recent years, regularly exceeded the 'carbon budgets' it had set itself".
The town's case was also backed by Paris and Grenoble, as well as several environmental NGOs including Oxfam France and Greenpeace France.
The court deferred a final ruling on the case, giving the government three months to justify "how its refusal to take additional measures is compatible with the respect of the reduction path chosen in order to achieve the targets set for 2030".
Wave of countries poised to boost climate goals ahead of COP26
In the same week as Canada became the latest country to unveil legislation to set a net zero emissions goal, an update from the Climate Vulnerable Forum of developing countries revealed that more than three-quarters of countries are now expected to submit stronger commitments under the Paris Agreement on climate change by the end of 2020.
According to a tracker tool managed by the group 151 governments have confirmed their intention to meet a UN deadline to raise their targets to cut planet-warming emissions over the next decade.
"The lion's share of nations have committed to deliver on Paris Agreement obligations this year, with stronger 2030 climate targets," Shahab Uddin, environment minister of Bangladesh and chair of the CVF was quoted as saying by Reuters.
European Commission confirms emissions covered by ETS fell 9.1 per cent last year
Emissions from businesses covered by the European Emissions Trading Scheme fell by 9.1 per cent last year, according to new data from the European Commission published on Wednesday. The fall was slightly bigger than the 8.7 per cent drop reported in preliminary figures earlier this year.
The Commission also announced that under the scheme's market stability mechanism it would now reduce the number of allowances available for auction next year by nearly 35 per cent, in order to avoid a larger surplus of allowances building up in the market.
The bloc also confirmed this week that due to technical reasons the first auction of ETS permis next year will not start until late January or early February.
The moves come ahead of a number of changes to the scheme next year, which will see the UK leave the market as part of the Brexit process and new reforms proposed to incorporate shipping emissions into the scheme and further tighten the supply of carbon allowances.
Separately, Commission Executive Vice-President Frans Timmermans said on Monday that tax reforms were needed right across the bloc to help accelerate the net zero transition. "At some point, we need to make sure that our carbon footprint is fully reflected in our taxes," he said. "I say this fully knowing that this is very often (the responsibility of) national policy. But if you want to be consistent on this, and you want us to go into a circular economy, you will have to think about changing the tax system."
APRIL unveils sweeping sustainability goals, signs up to science-based targets
Indonesian conglomerate Asia Pacific Resources International Limited (APRIL) has announced a raft of goals designed to slash the environmental impact of the paper and pulp giant.
The company announced this week that it is aiming to cut carbon emissions to achieve net zero emissions from land use and a 25 per cent cut in product carbon emissions by 2030, while also committing to net zero loss of protected areas and measurable gains in biodiversity and ecosystem benefits in the conservation and restoration areas under its active management. In addition, it announced it had signed up with the Science-Based Target Initiative (SBTi) and will work to set a science-based emission reduction target aligned with the SBTi's target-setting criteria.
Announcing the 2030 commitments and targets, RGE Director Anderson Tanoto said: "Continued investment in climate, nature and sustainable development assumes even greater urgency if the global economy is to achieve a strong recovery from the impacts of COVID-19. As challenging as the current situation is, it presents businesses with an opportunity, if seized decisively, to boldly transform the future for the better. We are determined to ensure the next decade is one of action and further transformation for our company as we play our part to achieve a lower carbon economy and make a positive impact on climate, nature and people."
The company said it would work to meet its new carbon goals through sourcing most of its mill and fibre operation's energy needs from renewable energy and implementing mitigation solutions across its concessions, including those on peatland, and minimising emissions in fibre plantation operations.
Philippines project wins first Dyson award for renewables breakthrough
A project that harnesses rotting fruit and vegetables to generate solar power has won the first sustainability gong in this year's James Dyson awards.
27-year-old Carvey Ehren Maigue, a student at Mapúa University in the Philippines, secured the high profile award for his Aureus system, which uses crop waste to capture stray UV rays and convert them into power, exploiting the natural scientific principles behind the northern lights.
The Guardian reported that the technology could be attached in panels to windows and walls, allowing high energy photons to be absorbed by luminescent particles derived from fruit and vegetables, which re-emit them as visible light.
"Winning the James Dyson Award is both a beginning and an end," Maigue said. "It marked the end of years of doubting whether my idea would find global relevance. I want to create a better form of renewable energy that uses the world's natural resources, is close to people's lives, forging achievable paths towards a sustainable and regenerative future."
OVO continues Spanish expansion drive with sonnen partnership
OVO Energy customers in Spain will now be able to harness the sun, powering their homes with rooftop solar plus a battery thanks to a new technology partnership with energy storage specialist sonnen.
The new customer offering marks the first of a series of tech-enabled products for the Spanish market that will take advantage of OVO's intelligent energy platform, Kaluza. Kaluza and Sonnen are already partners in the UK and OVO is now extending the alliance to support its push into the Spanish market.
The company said accelerated adoption of rooftop solar in Spain is expected to create grid challenges, and as such Kaluza's real-time cloud platform aims to help Spanish consumers store solar power and then use it at the optimum time so as to reduce bills and minimise pressure on the grid.
Epic plans unveiled to make Australia a renewables and hydrogen superpower
Iron ore mining giant Fortescue Metals has released plans to build more than 235GW of renewable capacity and become a global supplier of green energy and hydrogen on an unprecedented scale.
The plans, which are backed by Australian mining mogul Andrew Forrest, are staggeringly ambitious – 235GW is five times larger than the capacity of Australia's current grid. But in a briefing to investors this week, Forrest insisted the vision could be delivered.
"It is a time that has come," he said. "The world is never short and never will be short of renewable energy. After scientific and personal analysis of the renewable energy resources of our little planet I can assure you that there is more than enough renewable energy to sustainably and economically supply every person on this planet from this time forth.
"It is our job to respectfully use these readily available renewable resources and supply the world's fuel and power at sufficient scale to satisfy the need for abundant, cheap, zero pollutant energy."
Tesla, Uber, and others launch new trade group to lobby for 100 per cent EV mandates
Tesla, Uber, and US energy giant Southern Co. are among two dozen companies to form a new trade body that will lobby for 100 per cemt electric vehicle adoption by 2030.
The companies have formed the Zero Emission Transportation Association, which will call for a raft of policies such as consumer incentives, emissions targets, and charging infrastructure investment that will accelerate the shift to EVs, according to a statement released this week.
Article Source and Credit businessgreen.com https://www.businessgreen.com/news-analysis/4023298/global-briefing-french-court-government-justify-failure-deliver-bolder-climate-plan Buy Tickets for every event – Sports, Concerts, Festivals and more buytickets.com